Considering the evolution over the past few decades, wallets have become a necessity both for men and women. Gone are the days when debit, credit cards, and important documents were only with a few people. To avoid chaos, everybody nowadays needs a wallet to keep their cards and cash in place. Though they seem to be a simple thing, wallets have emerged a lot because of the quirky demands of the customers. Coffin-shaped wallets are one among them. Are these wallets worth it? Let's find out in this article.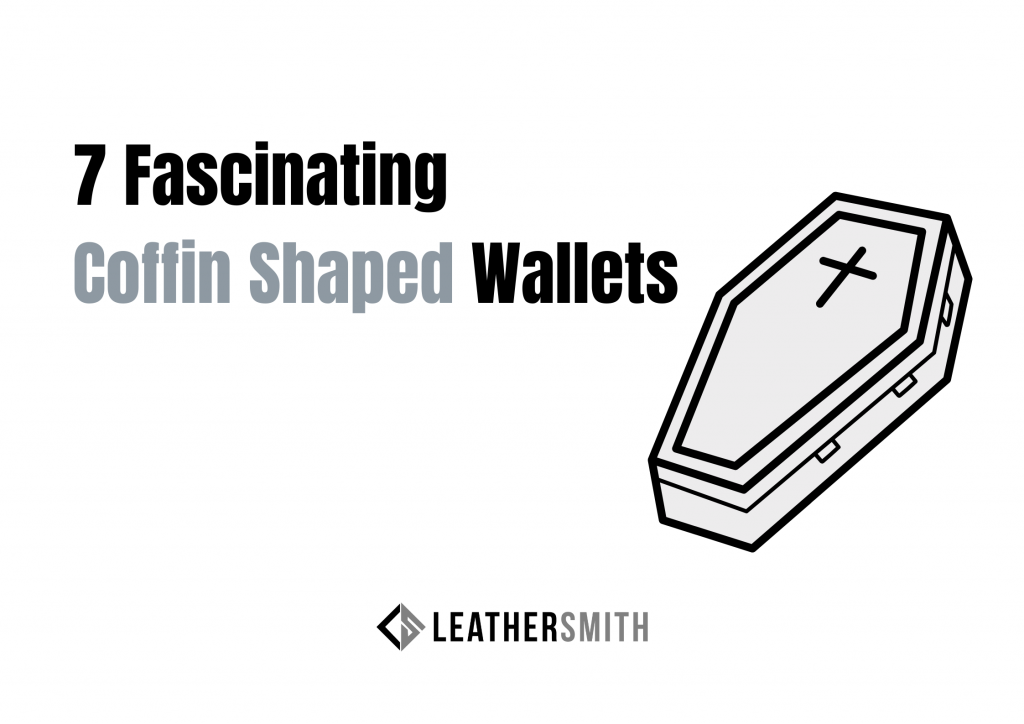 Although the word coffin might frighten you, certain innovative yet different minds led to the birth of a coffin wallet. This is nothing but a wallet shaped like a coffin or a pentagon to attract people's minds towards them. Simple wallets can be considered outdated nowadays as coffin wallets take their place. What are its requirements? Why are people so intrigued by them? If you, too, want answers to these questions, you are on the right page.
Coffin Shaped Wallet | 7 Picks
Coffin-shaped wallets are a new product invention in the wallet industry. Horror witchy stories and movies, skull walls, and horrifying decor may not be acceptable by a specific group of people but are quite fascinating for the other group. Those who belong to the latter group are picky about the things they use if they want their accessories to represent their love for horror films. Coffin wallets are just the correct version for them. First and foremost, the wallet's shape and the name are pretty interesting. Secondly, the leather and the horrifying carvings on the wallet make them intriguing for the individuals.
Last but not least, it is full of storage and very handy. Therefore, it adjusts into the pocket pretty easily. Some of the brands selling great coffin wallets are as follows.
Kreepsville 666 – Embossed Coffin Shaped Wallet
Kreepsville is a Los Angeles-based company with its flagship store in Los Angeles. In addition, they sell their products online too. Their embossed skull coffin wallet is one of their bestsellers among quirky wallets. This wallet is made of faux leather with images of skulls, creepy crawlers, and animals carved upon it. The wallet contains 4 to 5 pockets for various cards, side pockets for keys and cash, and a snap fastener.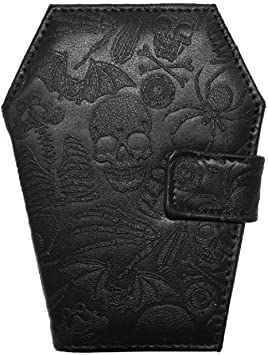 Kreepsville 666 wallet is around 5 inches high and 4 inches wide, making it easy to carry. Moreover, specific size charts are also available on websites to find the right wallet size.
Lazy
Skull Coffin Wallet
A perfect pick for a Halloween party is a gothic moon and skull wallet from Lazy skull. This wallet is made with premium quality and durable faux leather and is designed with a snap tab closure and a zip to keep your accessories safe. The wallet is made with cruelty-free and vegan leather and has around 11 individual card slots, an Id slot, and three full-size bills and cash pockets.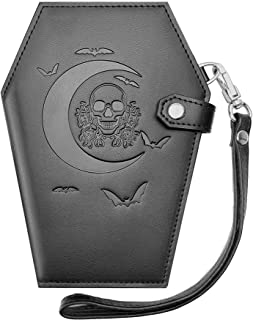 The leather on the wallet is engrossed with a skull, bat, roses, and a moon to give it a complete gothic look without compromising functionality and durability. The wallet comes with a wristlet strap around 6.7 inches high and 4.7 inches wide which is pretty easy to carry. A lazy skull coffin wallet is a great pick when searching for a quirky yet affordable wallet.
Glenbarn
Glenbarn coffin wallet is made up of high-quality polyurethane(PU) leather. This leather is made of thermoplastic polymer, making it pretty smooth and easy to touch. This horror wallet has 4 card slots, a photo Id holder, a coin holder, and large cash compartments to keep our possessions safe in the wallet.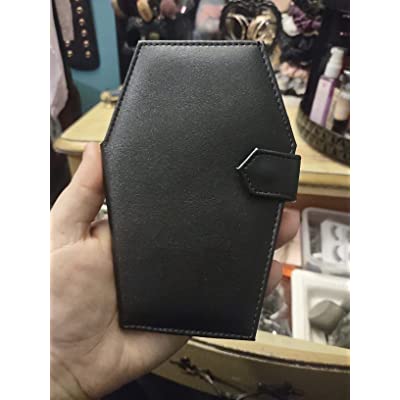 Glenbarn coffin wallet is around 6 inches in height and 4 inches wide and fits pretty quickly into the pocket. The wallet has a snap closure and is pretty decent compared to other coffin wallets. Only the shape of the wallet is like a coffin. Otherwise, it has a proper pink, black, etc., color with no horrifying carvings.
Rock Rebel Coffin Wallet
Rock rebel is a USA-originated company that sells premium quality wallets at an affordable price. The coffin wallets by Rock rebel are made of premium quality vegan leather and have a custom cobweb lining. Moreover, the wallet has enough space to incorporate cards, cash, id proof, and coins and has a zippered closure to keep the belongings safe.
The wallet is around 22 cm high and 15 cm wide and has an elegant glittery cover to perfectly fit into your not so horror and yet do horror liking. In addition, the wallet is reasonably priced and offers the EMI option to its buyers.
Toynk Halloween Michael Myers Coffin Shaped Wallet
Toynk Halloween coffin wallet is a black colored wallet made up of vegan PVC pleather. Therefore, it isn't pure leather but has a shiny texture with vinyl lining. It has a zip closure and comes with a clip-on strap. The wallet is around 8 inches long and 5 inches wide and has enough zipped and unzipped pockets to incorporate various necessary belongings. The eye-catching factor is the scary picture of Michael Myers, making it a must-buy product for all Halloween lovers.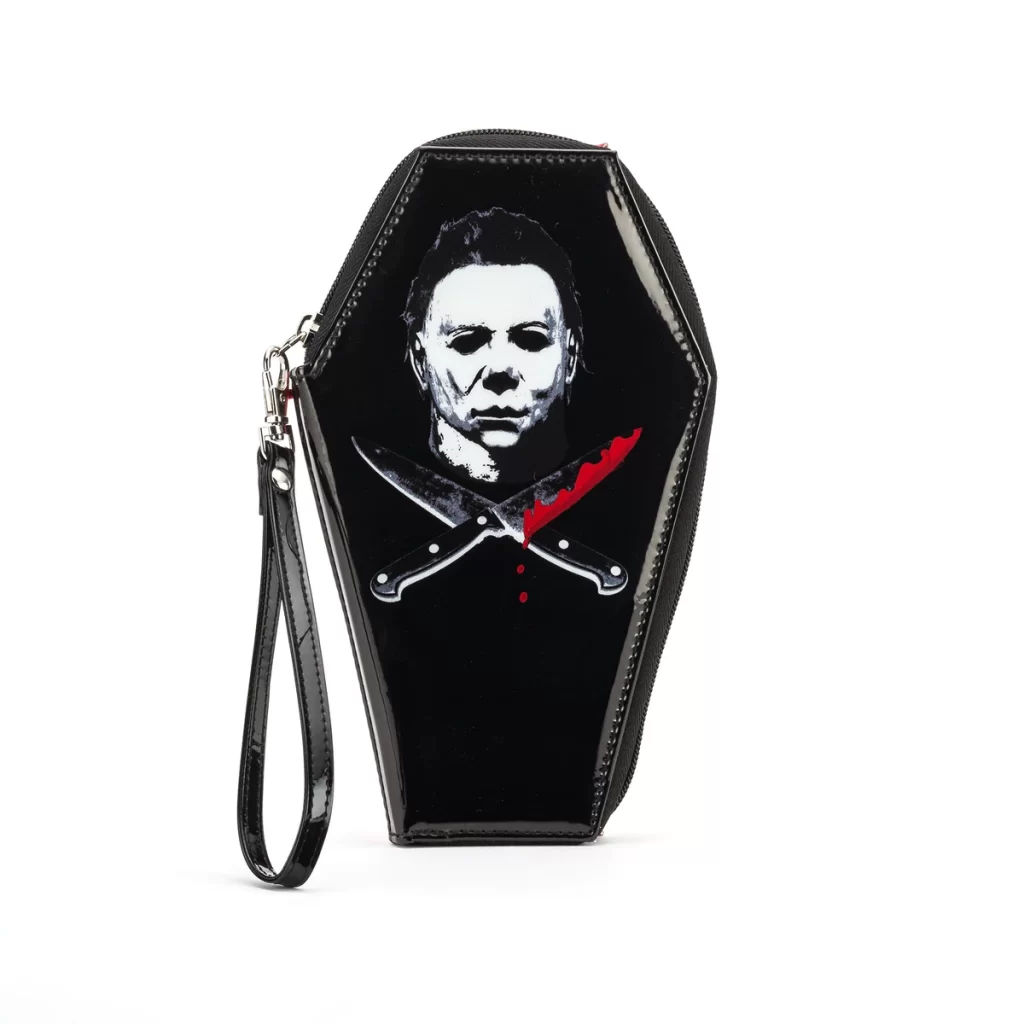 Universal We Belong Dead Glitter Coffin Wallet by Rock Rebel
Universal we belong dead glitter wallet is a perfect start to your collection of coffin wallets. The wallet is black with specific quirky images on board. Made with faux leather, the wallet has a full custom cobweb lining and a unique shine, making it even more attractive.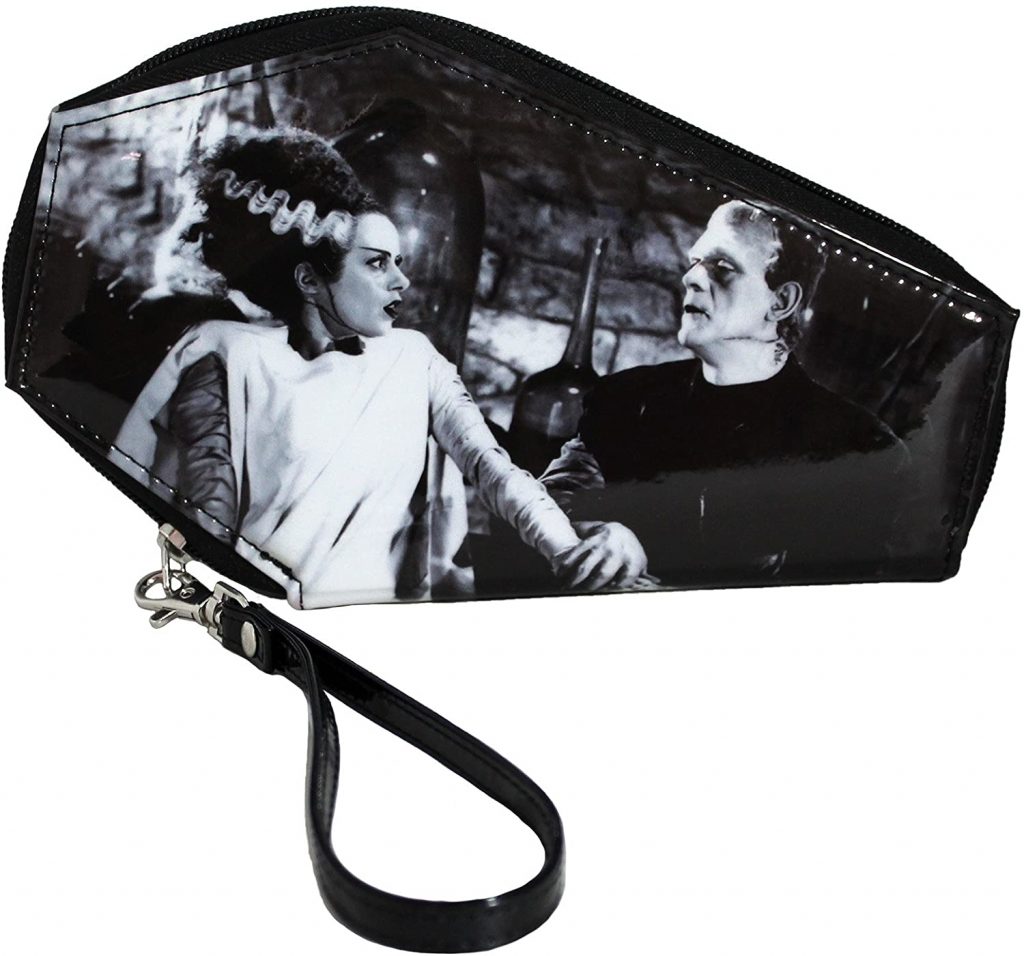 This coffin shaped wallet has enough zippered and non-zippered pockets to hold cash, ID proof, coins, and cards. It is specially made for women, around 9 inches in height and 10 inches wide. In addition, the premium quality faux leather makes the product durable and easy to carry.
Lazy Skull Spooky Gothic Wallet
Are you too fan of slim yet not so dull wallets? Lazy skull wallets are just for you. This lazy skull wallet is made of faux leather with a unique embossed skull with bat wings. Though scary at first look, it's a perfect fit for your pocket because of its size and weight. It weighs around 2 ounces and is 5 inches high and 4 inches wide. The premium, cruelty-free faux leather makes it durable and a perfect gift for a coffin wallet lover.
Moreover, it is nicely finished and doesn't leave any sharp ends. The wallet also comprises six individual card slots, ID slots, two separate bill pockets, and enough pockets for cash.
Closure
Coffin-shaped wallets are a unique yet quirky trend in the wallet industry. Nobody could have ever imagined a wallet to be this scary in both shape and carvings. Nobody could have expected a simple thing like a wallet to be in the shape of a coffin or a purse in the shape of a skull. But it can be considered a new addition to those witchy wardrobes eagerly waiting for their masters to purchase a witchy wallet. For those new to this trend, it can be a purchase that will shape your mindset towards such things.
Whichever section you belong to is a win-win purchase in terms of quality and price. Therefore, trying it once is a must. The above-stated brands offer premium quality coffin wallets at a reasonable price to make you fall in love with them. They fulfill the needs of both a wallet and a gothic wallet in one go.