The enticing world of equine makes it mandatory to have your horse adorned with the perfect accessories if nothing else. While equestrian looks are making their way back to fashion, users have boldly confessed they have wanted to get their hands on the best of the best products. And why shouldn't they? While everyone desires a hot, horsy look on their riding race track companion, one might get overwhelmed with the different options available today. Finding a saddle appropriate for your horse and equestrianism discipline is critical for safe and comfortable horseback riding. Big Horn Saddle Reviews claim to be your one-stop solution with their sophisticated yet fashionable category of options.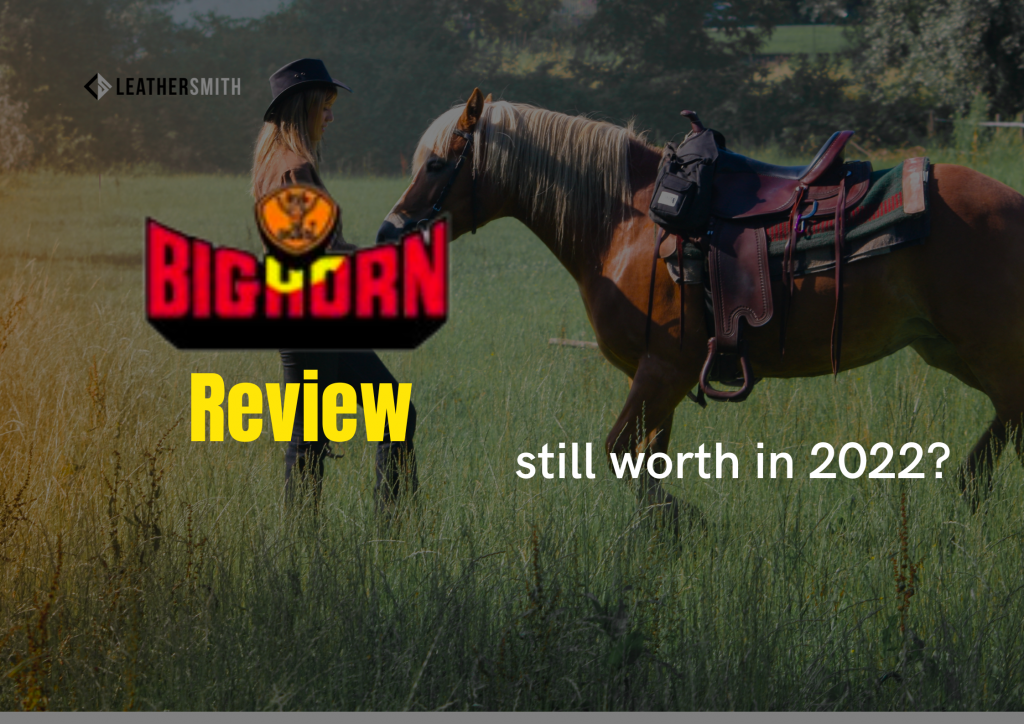 High quality, durability, you name it, the brand has got it all covered. But, will it walk hand in hand with your budget? A survey found that Big Horn has a high pricing structure which may make a dent in your purse, so we thought to bring you something more attractive that reveals authentic craftsmanship – LeatherSmith.
LeatherSmith promises to cater to everyone's needs by selling products of superior quality similar to premium leather brands like Big Horn in many humble ways without compromising on the needs of its customers. Be it design, quality, nature, or price; users said this brand checks all the right boxes. So does it? Well, there's only one way of finding out! Let us dig deep to know more. 
Big Horn Saddle Reviews | Types Of Saddles They Offer
Big Horn Trail Saddle 
Trail saddles, also known as pleasure saddles, are lightweight and designed for maximum comfort. These have padded seats or, in some cases, gel seats to ensure your utmost comfort. The design of fenders on such saddles keeps you in a proper riding position, which is essential for long rides. They are frequently used with breast collars to keep the saddle from sliding back on steep inclines, and they come with a saddle string for tying trail equipment.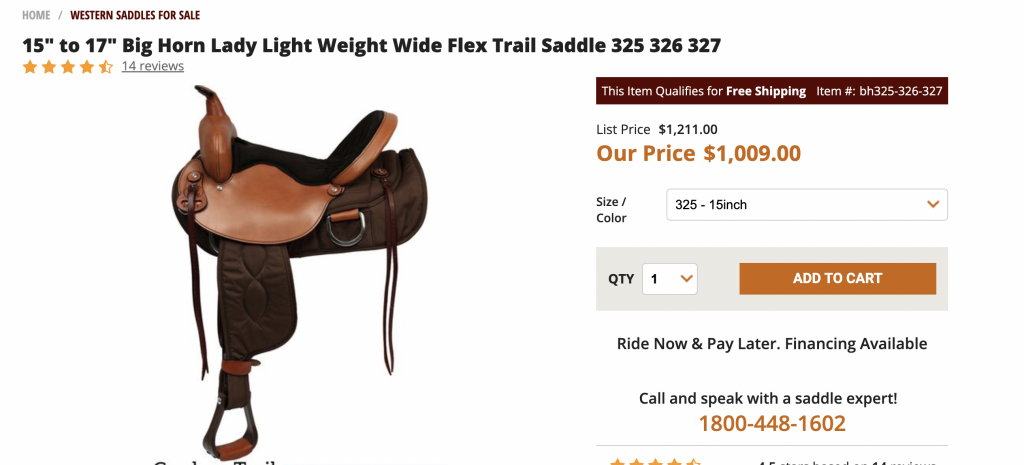 The Big Horn Lady Light Weight Wide Flex Trail Saddle is one of the bestsellers of the revolutionary brand and claims to offer you a smooth running experience, be it any rough terrain. The rigging is made of extra heavy stainless steel; durable as it will last you many days, without a doubt. The brand has priced its pride at a whopping amount of 1009 dollars, often putting users into deep thought, where they feel reluctant to purchase it. LeatherSmith can shoo away your budget worries, for they are far more inexpensive, and you also get the benefit of great discounts if you order in bulk.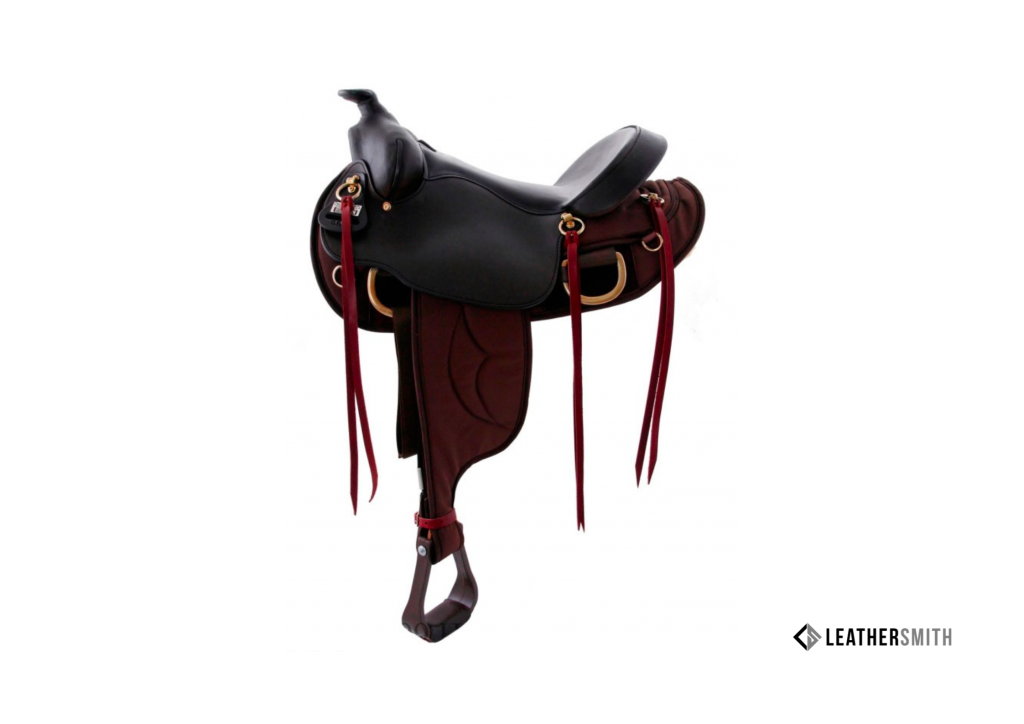 Big Horn Ranch Saddle 
Are Ranch Saddles all about good-looking cowboys, big hats, and neat boots? We think there's more! The Billy Cook Wade Tree Saddle and the Wade Ranch Saddle are always in high demand when people talk of choosing the best Ranch saddles for themselves. These all-loved and super versatile options possess a high cantle for convenience and security and also feature powerful horns for roping or dragging. Fenders are attached to them that hang directly below the rider and offer double rigging for strength and a front and flank cinch.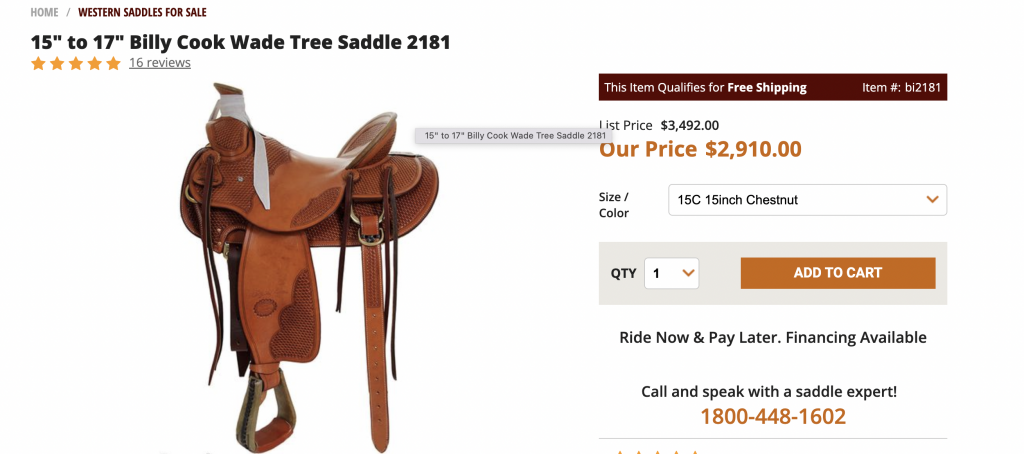 But sadly, these will cost you around 3000 dollars each, which might feel like you are spending your entire fortune on them. So is it worth it? Our trusted sources say that LeatherSmith tells a tale of its cost-effective options, which are equally good, and premium as these, and here's the best part, the money you save buying these, who knows, may get you a pony, if not a horse! Haha. 
Big Horn All Around Saddle
All work and no play make Jack a dull boy, but not anymore! The All Around Saddle from Big Horn claims to be your perfect work and play partner with its unique design, which has been created keeping all pretty ladies in mind. They are best made from a wooden tree and have a sturdy horn that can withstand the pressure of roping, dragging, and pulling. The close contact skirt on these saddles aids/promotes leg cues. The suede seat makes sure you get an excellent grip while sitting, and you also get a matching rear flank strap. Talking about Suede, here is something useful about Suede — Mink Oil for Suede.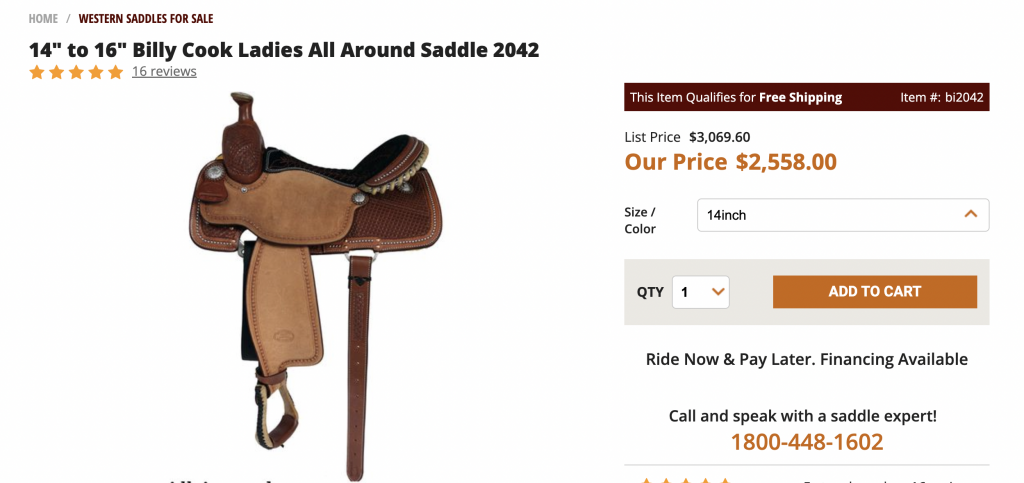 Billy Cook Ladies All Around saddle has gathered a lot of raves from horse lovers, with its polished features, which can make anyone compel to buy it. But did you even have a chance to notice its price tag? Being one of the brand's favorites, the saddle costs 2558 dollars, which might make you want to steal! But LeatherSmith cares deeply about all its clients, so it ensures people of all kinds can feel safe with its pricing policy. Here you not only save hundreds of dollars you would have spent meaningless but also get a top-notch quality saddle, so that rain or shine, you are all set to ride away!
Big Horn Endurance Saddle
Endurance saddles assure you to provide all the endurance you need while making an arduous journey! No kidding. These awe-inspiring saddles have been crafted with unique detailing, taking care of your comfort while you compete and on long-distance rides. These are available in English, Western, and Australian styles and are typically weightless so that your horse doesn't feel like it's being dragged! You can sit for long hours and still feel comfortable, as these have been designed to evaporate all your saddle woes! Did you know that the larger surface is to ensure that you don't have foot cramping? But the prices of these saddles start from nearly a thousand dollars and go as high as three thousand dollars. So does it deserve your splurge of money?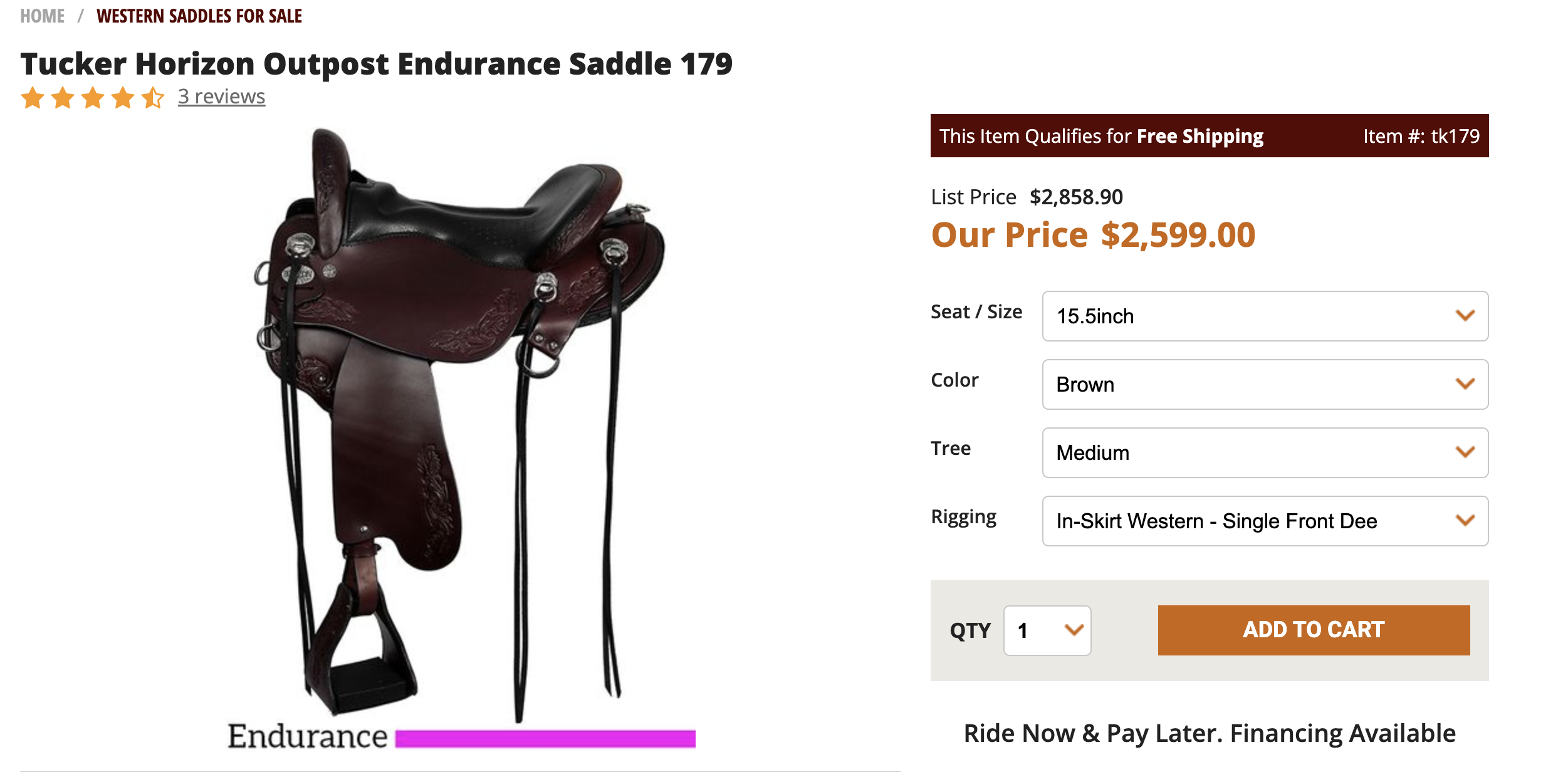 The offer LeatherSmith makes may feel more promising to the audience, for these are not as pricey as Big Horn one. Users might feel the brand will compromise the quality with its cheaper alternatives, but no. It aims solely for customer satisfaction, ensuring you get the A-game in the quality you desire. 
Big Horn Show Saddle 
Whoever came up with buying show saddles from Big Horn might have a money orchard hidden somewhere! Show saddles are heavy, have a lot of leather, and are heavily embellished to look good in the show ring. They are supposed to be flashy and eye-catching. These are designed in a certain way to keep you in the proper position so that you find balance throughout your journey. Show saddles typically feature a lower pommel and horn for better cues and rein movement, deep skirts, padded or suede seats, and turned stirrups. Due to all of the details included, especially on the flaps, cantle, horn, and sometimes forks and stirrups, show saddles are typically on the pricey side. But will you believe it if we say the Circle Y Empress Show Saddle costs about 5099 dollars? We don't know about you, but we were perplexed. LeatherSmith believes good things should be economical and, of course, available to all!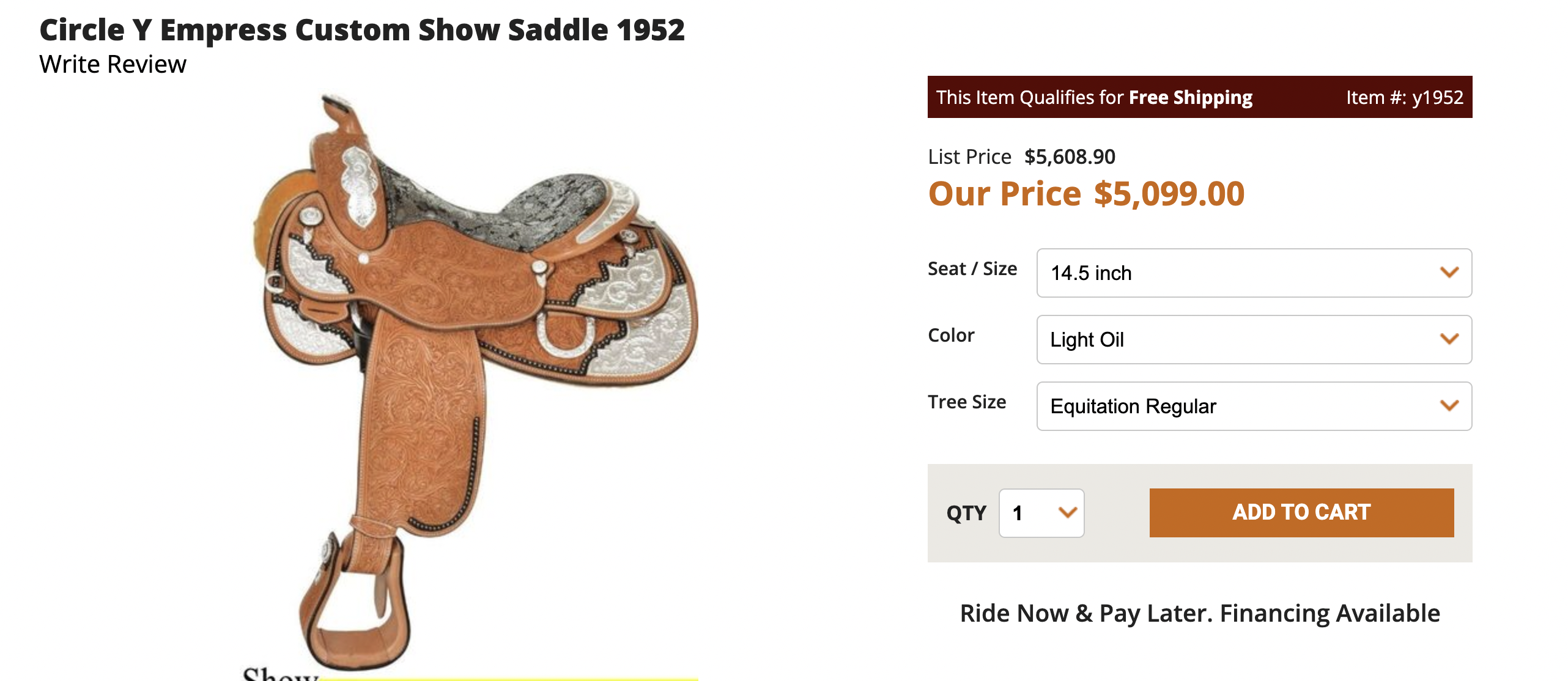 The brand strives to give you the saddle you want and the exact way you want it! That's right, and now you have the liberty to customize your needs and have LeatherSmith turn them into living realities at a much cheaper rate. So if you ever feel like saving some money, you know which door to knock on! 
Frequently Asked Questions | Big Horn Saddle 
Which is the best saddle for mutton-withered horses? 
This type of horse, also known as a low-withered horse, has a gradual slope towards the rear and lacks shoulder definition. It may also have a flatter or rounder back. These horses have a limited range of motion and may have choppy strides. Saddles designed for Haflingers will best suit mutton-withered horses because they have flat tops and shorter backs that accommodate the shape of your horse's withers. A straight back pad with ventilation openings at the spine can be helpful for saddle pads. Another option is a rear-raised pad, which will help balance the ride.
Is Big Horn Saddle still in business? 
In the 1960s, the Big Horn Saddle Company started in Chattanooga, Tennessee. American Saddlery purchased this saddle company in 2008. Big Horn Saddle manufactures a wide range of high-quality, sturdy, and long-lasting saddles. American Saddlery's official website is where you can buy Big Horn Saddle products. There are also several other Big Horn saddle dealers to choose from online.
What is the best saddle to ride in?
When people were asked about all the used Big Horn Saddles, which are their favorite, they revealed that the BiG Horn Cordura Trail Saddle offered utmost excellence while riding. These are not only lightweight but also make it effortless for the rider to saddle up with ease. Available in six different sizes, these have brass rings that are resistant to rust. You also get a double padded suede seat along with it. 
Closure | Big Horn Saddle Reviews
The ideal saddle depends on factors such as the equestrian discipline, horse breed, and the rider's needs. As one saddle may not fit every horse, there is a wide variety of styles for you to choose from on the market—a few of which we discussed above briefly. Saddles usually fall on the expensive side; however, with proper care and maintenance, they can last up to decades, making them well worth the money. However, wouldn't it be amazing to receive a discount on the saddle without compromising the quality, style, and design? 
We are pleased to inform you that we can provide you with any saddle you desire, including those similar to Big Horn saddles, at a discounted rate (30% -40% off) if you place orders in bulk. We guarantee that we will not compromise these saddles' quality, durability, and functionality no matter what. We are committed to producing goods with precision and care to make them worth your money. We'd also like to point out that we sell leather goods other than saddles, such as wallets, holsters, and other accessories. If you have any questions or concerns, please get in touch with us at https://leathersmith.org/, and we will get back to you as soon as possible.